Unlock The Full Potential of Drilling
Operations with The Panther Companies

DISCOVER THE PANTHER ADVANTAGE IN OUR COMPREHENSIVE DRILLING FLUID SYSTEMS SHEET
Dive deep into our unparalleled expertise in fluid management systems, maximizing the efficiency of wellsites
and ensuring the pinnacle of drilling fluid management.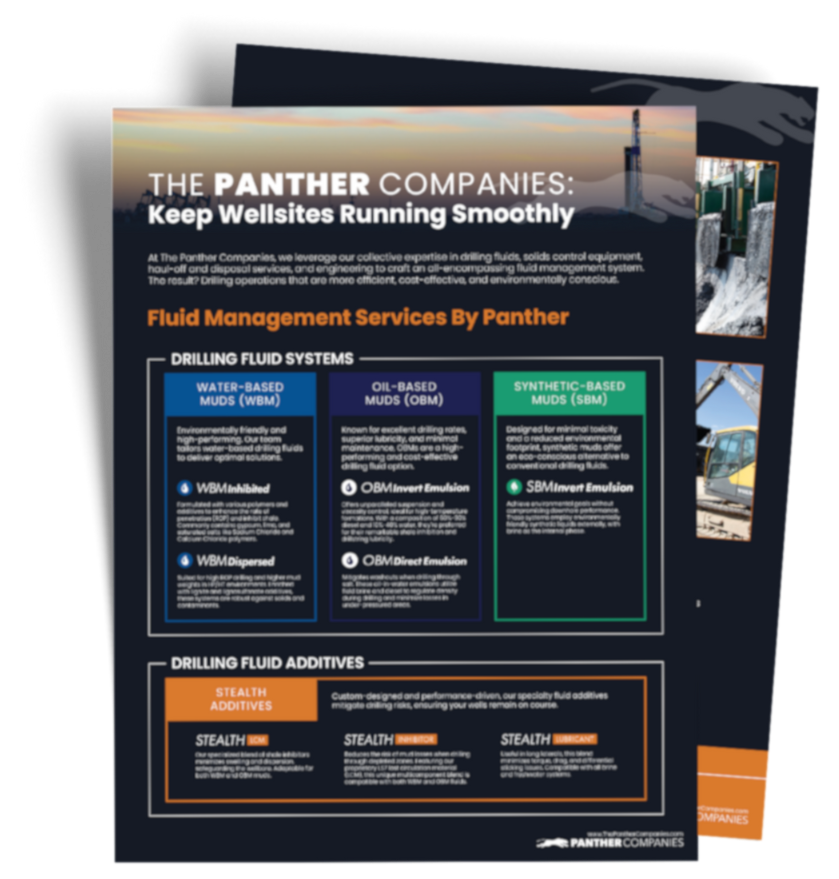 What's Inside Our Drilling Fluid Systems Sheet?


Drilling Fluids Management: Delve into Water-Based Muds, Oil-Based Muds, and Synthetic-Based Muds. Get insights into Invert Emulsion, Direct Emulsion, and more.
Drilling Fluid Additives: Understand the stealth behind our Stealth Additives, from Shale Inhibitors to Lost Circulation Material and Lubricants.
Solids Control: The modern drilling environment demands an effective closed-loop system. Discover how our mix of Shale Shakers, Tanks, Centrifuges, and Hydrocyclones meets this demand.
Haul-off and Disposal:

From liquid waste disposal to vacuum truck services, we uphold paramount safety and environmental compliance in all oilfield waste disposal operations.
Ready to Elevate Your Drilling Operations?
Unlock the

comprehensive knowledge of our fluid management system

, refined through years of industry-leading experience.

Download the

Drilling Fluid Systems Sheet

now and start the journey toward more streamlined and effective drilling operations.




Why Trust Panther for Your Drilling Needs?
At The Panther Companies, we've sculpted an all-encompassing fluid management system.

Our mastery in drilling fluids, solids control, and haul-off and disposal

leads to drilling operations that are not just

efficient

and

cost-effective

but also

environmentally conscious.




Let us take care of the details, so you can concentrate on drilling the well.